Sample the Associate in Insurance
Sample the online AINS with this 10-30 minute free micro-course to make sure it's the right fit for you.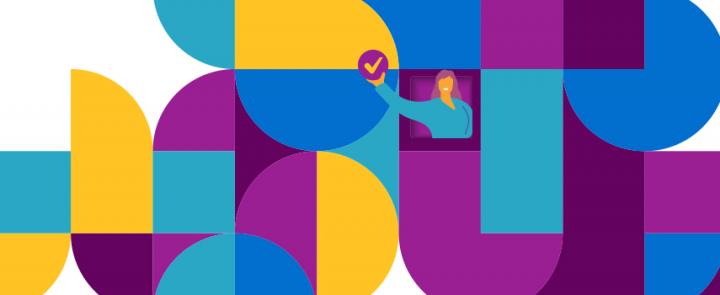 Free Micro-Course
Online AINS Micro-Course
---
Try AINS for free and learn why insurance exists, how the industry is evolving, and why it's so important for families and organizations.
Topics

Introduction to Insurance
Common Types of Insurance
Types of Insurers
How Risk Management Has Evolved

Average Completion Time

10-30 Minutes
Gain On-the-Job Skills
See what skills you'll gain from the Associate in Insurance (AINS) in this short video.
What You'll Gain with an AINS
---
Earn Your Associate in Insurance (AINS) so you can:
Effectively explain how underwriters assess risk and price coverage

Promptly respond to claimants and set appropriate expectations

Quickly navigate an insurance policy

Focus on commercial or personal insurance so you can assist businesses or individual customers
Score Higher with Exam Prep Tools
Students who take the AINS simulated exam score 6-9 points higher on AINS exams!* Check out this short video to learn more about the included exam prep materials.
Score Higher with Our Exam Prep Materials
---
Comprehensive Exam Prep Tools Include:
Printable study outline
Practice quizzes
Simulated exam
Discussion boards
Flashcards
1 Core Course
Master insurance basics with AINS 101
1 Concentration Course
Focus on personal or commercial insurance
1 Elective Course
Choose from 7 electives to dive into an area more fully
Ethics
Apply ethical frameworks to your day-to-day job
Congrats!
Stand out with your AINS designation
Gain skills you can use right away with the AINS designation. This program includes:
3 courses, plus ethics

3-6 months to complete

100% online courses

Virtual exams for all courses

Mailed diploma upon completion
Ready-Made Career Skills:
Insurance
Claims Handling
Coverage Analysis
Customer Service
Risk Assessment
Insurance Operations
Personal Insurance
Commercial Insurance
Cross-Organization Collaboration
Start to master insurance basics by completing AINS 101: Increasing Your Insurance IQ.
Choose 1 concentration course to build your expertise in either personal or commercial lines:
Then choose one of the following electives to dive into a specific area more fully. If you wish to gain a broad view of insurance, select the opposite of your concentration course (AINS 102 or AINS 103).
Ethical Decision Making in Risk and Insurance is a free course that's required for all designations, including AINS. 
Insurance basics to help you build the foundation you need to understand how risk is assessed and claims are processed

How to collaborate with colleagues across departments by understanding how different areas of the business influence each other

Best practices for serving customers by understanding how insurer functions work together to create and deliver products

A broad overview of risk and insurance by learning the different types of insurers and risk management practices

How to easily adapt and serve your customers as your organization grows and insurance needs change
Still Wondering if AINS is Right for You?
Who should take AINS?

AINS is for anyone new to risk management and insurance. This includes someone just starting to work professionally or who has recently changed careers.

Which AINS completion path provides me with a general view of insurance?

We recommend taking both AINS 102: Understanding Personal Insurance and AINS 103: Exploring Commercial Insurance if you wish to gain a broad view of insurance. You can take one for your concentration course and the other for your elective course.

Can I sample the course material before I purchase?

Yes! We have a free 10-30 minute micro-course that will give you a taste of AINS course material. Plus, as part of the micro-course, you'll complete the first assignment of AINS 101. That means you'll have just 5 assignments to go to complete your first full AINS course! You can sign up for the micro-course here.

Does earning this designation give me credit toward others?

If you take CPCU 500 for your elective course, credit will be applied toward the CPCU designation.
If you take ARM 400 for your elective course, credit will be applied toward the Associate in Risk Management (ARM) designation.
If you take AIC 300, credit will be applied toward the Associate in Claims (AIC) designation.
If you take API 320, credit will be applied toward the Associate in Personal Insurance (API) designation.
If you take AINS 101, credit will be applied toward the Senior Professional Public Adjuster (SPPA) designation.
If you take AU 60, credit will be applied toward the Associate in Commercial Underwriting (AU) designation.
Not Ready for AINS? We've got you covered.
.
Ethical Decision Making in Risk and Insurance
.
Build a sound ethical framework that you can apply to your day-to-day operations. Learn to better recognize and address ethical dilemmas in the workplace and preserve the public's trust in the risk and insurance industry.
.
Insurance Essentials
.
Gain a basic understanding of risk management and insurance concepts. Learn key terms and definitions, understand the different types of insurance, and explore how insurance affects society and the economy.
*Based on AINS student exam results vs exam preparation methodologies, 2020-2021